Serengeti National Park is a wildlife sanctuary where an array of wildlife is found, together with over 500 bird species. The vast grassland and stunning landscape offer picturesque views, a pure ecosystem, and a research site for scientists studying African ecology.
Fun fact:
Serengeti comes from the Maasai word 'Siringit' which means ''Endless plains.''
The park is home to the biggest concentration of predators in the world, including lions, leopards, cheetahs, and hyenas.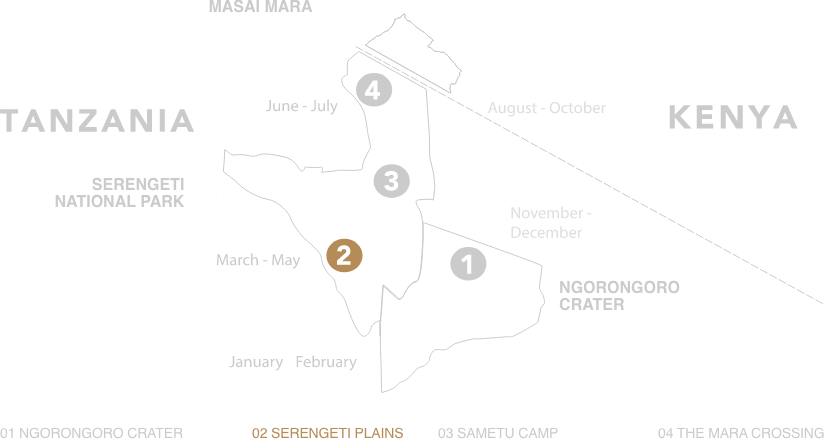 In Your Words
This place is perfect. You stay in tents so you are really close to nature, you can even hear the lion growling at night. The tents are AMAZING, beautiful, comfortable, spacious and safe. The staff are extremely helpful, nice and always smiling. We will never forget this experience!

Pula M - Chile

Perfect Stay
The staff were wonderful, taking the time and effort to get to know every individuals preference, the rooms were cozy and extremely comfortable. We went to sleep with the sounds of lions roars from 2km away, it was truly magical. A highly recommended experience!

Rhea J

Epitome Of Relaxation And Wildlife!
My husband and I stayed at the Woodlands camp for 2, We still can't believe this is a mobile camp! The accommodations were beyond our expectations. The location was ideal as we started our game drives right from camp. There were giraffes, zebras and wildebeest nearby.

Handreal H

Beyond Our Expectations!
Enjoy the Untouched Splendor of Nature
3°07'32.2″S, 35°39'40.9″E
Whispering tales from the confines of Naabi Hills in the Serengeti's southern embrace, the Woodlands Camp stands as a harmonious blend of opulence and Tanzania's feral spirit. Beyond a mere stay, it offers an embrace of nature and refined comfort, situating guests amidst the heartbeats of the captivating wildebeest calving spectacle.
With the Serengeti as your canvas, experience a living tableau of fauna and sheer beauty. Perfectly positioned within the calving season, Woodlands Camp pledges unparalleled encounters where luxury seamlessly intertwines with nature's raw embrace right from your doorstep.
Karibu's Finer Touches: Beyond the Expected