Watch millions of Wildebeests tread across the magnificent Mara River as they migrate, facing the risk of hungry lions and hyenas pouncing on them.
Fun fact:
Serengeti comes from the Maasai word 'Siringit' which means ''Endless plains.''
The park is home to the biggest concentration of predators in the world, including lions, leopards, cheetahs, and hyenas.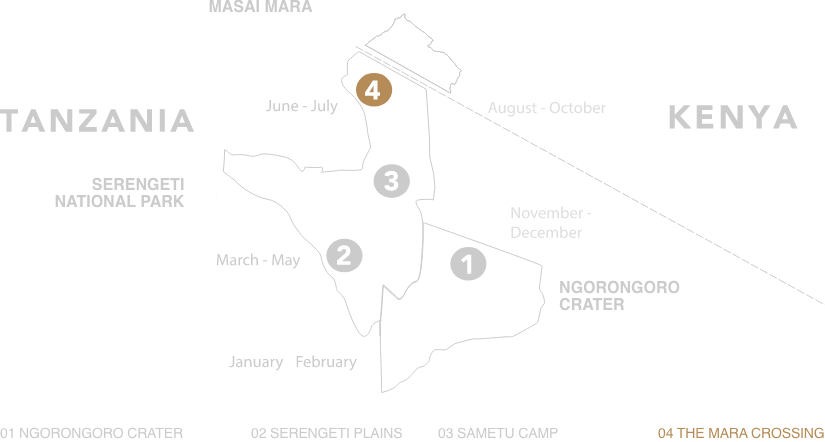 In Your Words
Excellent location, and very welcoming and friendly staff. We were really well looked after on both nights. Francis, the was terrific and special mention to the Chef. Very spacious and comfortable rooms too. Beautiful sunset location and we even had Wildlife nearby!

Kamlesh R - United Kingdom

Highly recommended!
Highly recommend! All of the staff were extremely helpful and friendly. The food is great and the rooms are nice. Both the lodge and the Rooms have a nice view. One day we got back and sat on our deck enjoying the view of Giraffes, Gazelles, and Zebras all just a few hundred feet away. Overall great experience!

Eab K - United States

Lovely Camp With Great Staff, Food, & Views!
Excellent lodge nearby the Mara River. We were there to see the Migration the crossing was unbelievable! The rooms are gorgeous and the Wildebeest and Zebras we're just outside our room during the night! I loved the new lodges with the outside showers as well! Thank you!

Michelle C - United States

Gorgeous Lodge
Witness the World's Greatest Spectacle
3°07'32.2″S, 35°39'40.9″E
Nestled in the heart of the Northern Serengeti, Mara River Camp boasts a location second to none. Just a mere 10 minutes from the legendary Mara River, our camp offers guests an unparalleled proximity to nature's most mesmerizing spectacles. The river itself is famed as the backdrop to the dramatic annual wildebeest migration crossings, an event that has captured the imagination of many. But it's not just the migration that makes our location special; the rich tapestry of wildlife, from majestic lions to graceful gazelles, is a constant presence.
At Mara River Camp, the sounds of the wild beckon at your doorstep, and the vastness of the Serengeti unfolds before your very eyes. Our strategic location ensures that guests are always at the heart of the action, with minimal transit times to key viewing spots. Yet, amidst all this wilderness, the camp offers comfort, serenity, and a deep connection with nature. Whether you're a seasoned safari-goer or a first-timer, Mara River Camp promises an experience that's both intimate and awe-inspiring. Welcome to the rhythm of the Serengeti, welcome to Mara River Camp.
Karibu's Finer Touches: Beyond the Expected