Karibu Ngorongoro Crater
Heavily protected, UNESCO's World Heritage site, the Ngorongoro Conservation Area sits 180 km west of Arusha in Northern Tanzania. The crater is the largest unfilled inactive and intact volcanic caldera in the world; this majesty was formed when what would have been the world's largest volcano exploded and collapsed on itself some 2 to 3 million years ago, leaving a 610 m deep crater and a floor that covers 260 sq. km.
Deemed one of Africa's natural wonders, Ngorongoro's residents include some of the world's endangered Black Rhino in its evergreen terrain. The crater is also home to some 25,000 large animals such as the African buffalo, eland, zebras, hippopotamus, Thompson gazelles, one of the largest populations of lions as well as flamingos. Resting in the southwest of this gigantic crater is Lake Magadi. The Ngorongoro Conservation Area conveniently gives protection to the Oldupai Gorges, the seat of humanity after the awe-inspiring discovery of the earliest recognized specimens of the human genus.
Olduvai Gorge
The Olduvai Gorge is known as the "Cradle of Mankind". It is where the oldest archaeological discoveries were made by Richard Leakey and his family. The Leakey's discovered the remains of the very first hominids in Olduvai Gorge in the early 20th Century. They went on to make some groundbreaking discoveries with most of them older than 2 million years ago. The fossils include that of extinct animals that roamed the area and the more recent stone age man.
Experience
Empakai Crater Walk
This is the smaller sibling of the Ngorongoro Crater. The Empakaai Crater was also formed when a volcano collapsed into a 6-kilometer-wide caldera. It is a lesser known crater but with a lot to offer. Much of it is covered by a deep alkaline lake that is 85 meters deep .The rims of the crater are home to pink flamingos, blue monkeys, water bucks, bush bucks, buffaloes, elephants and hyenas. Beyond the crater are stunning views of Mount Kilimanjaro and Ol Doinyo Lengai.
Experience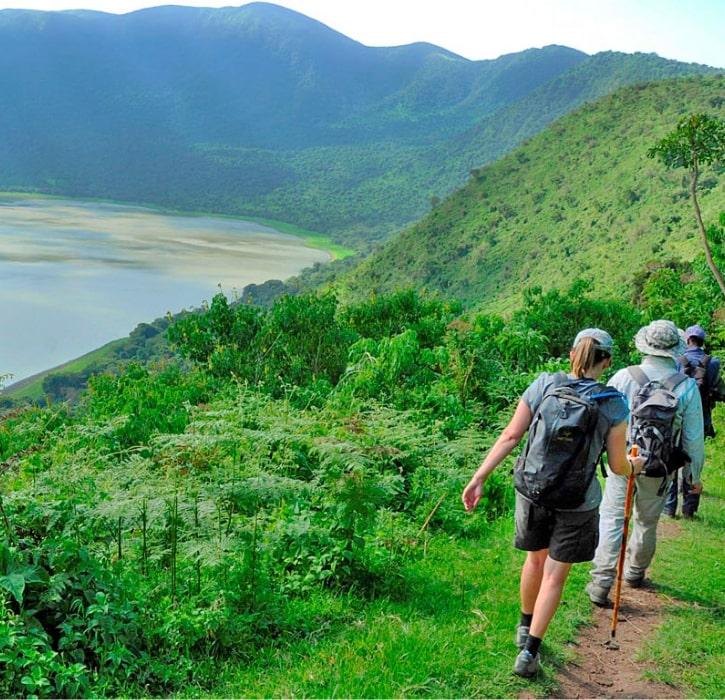 Olmoti Crater Walk
Among the Maasai, Olmoti means cooking pot. The shallow crater is found within the Ngorongoro conservation area highlands and stands at 3080 meters above sea level.
It is where most of the Maasai herdsmen take their domestic animals for grazing alongside buffaloes, bushbucks, eland and reedbuck. You can crown your tour of the Crater by visiting a nearby waterfall (100 meter) that feeds into Lake Magadi.
Experience
Karibu's Finer Touches: Beyond the Expected